Celemony Melodyne 5 Studio v5.2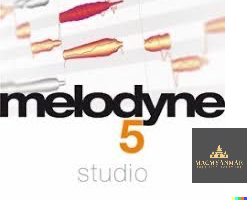 Name : Celemony Melodyne 5 Studio v 5.2
Size : 165.6
Celemony Melodyne 5 Studio v5.2
Melodyne is a renowned audio editing software that offers advanced capabilities for editing and manipulating audio recordings, including vocals and instruments. The latest version, Melodyne 5, introduces several new technologies and features aimed at enhancing the audio editing experience. Here are some of the key improvements and features in Melodyne 5:
1. Improved "Melodic" Algorithm: Melodyne 5 incorporates a fundamentally improved "Melodic" algorithm, making vocal editing even more precise and natural. This enhancement allows for perfect and natural corrections at the press of a key.
2. Separation of Pitched and Noise-Like Components: The new version enables users to edit pitched and noise-like components of audio recordings separately using the "Melodic" algorithm. This separation provides greater control over the editing process.
3. More Musical Pitch Analysis: Melodyne 5 offers a more musical analysis of pitch deviations, ensuring that corrections are in harmony with the musical context of the recording.
4. Chord Track and Chord Grid: The Chord Track and Chord Grid features are introduced to facilitate pitch editing. Users can adapt notes quickly to match the chords of a song, and the software includes chord recognition capabilities.
5. Fade Tool: Melodyne 5 includes a unique Fade Tool that allows users to create note-based fades. This feature is especially useful for polyphonic recordings and samples.
6. Leveling Macro: The Leveling Macro is introduced for editing dynamics, enabling users to control the volume levels of audio recordings more effectively.
7. Additional Algorithm ("Percussive Pitched"): Melodyne 5 introduces an additional algorithm called "Percussive Pitched." This algorithm, along with other improvements, expands the range of audio materials that can be processed with precision.
8. Search Functions for Keyboard Shortcuts: The software includes search functions for keyboard shortcuts, making it easier for users to find and utilize specific shortcuts. Users can also save customized shortcut sets.
Melodyne 5 is compatible with macOS 10.12 or later (64-bit). It offers a wide range of tools and capabilities for audio professionals, music producers, and anyone involved in audio editing and manipulation. Whether you need to correct pitch, edit timing, or enhance the musicality of audio recordings, Melodyne 5 provides a powerful and versatile solution.
For more information and to explore the new features in Melodyne 5, you can visit the official Melodyne website.
One comment