Jameskarke
This user hasn't shared any profile information
Home page: http://macmyanmar.com
Posts by Jameskarke
0
Name : iTubeGo YouTube Downloader
Size : 66 MB
iTubeGo YouTube Downloader for Mac Free Download V-7.3.0
iTubeGo HD Video Downloader 7.3.0
iTubeGo HD Video Downloader is a powerful tool that enables users to download full HD/4K/8K videos from various platforms such as YouTube, Dailymotion, Facebook, and over 10,000 other websites at high speed. With a built-in browser for easy video and music downloads, iTubeGo supports multiple video quality options and allows users to download videos in bulk with a 10X faster speed. In addition to video downloads, the application can extract audio from videos and save it in high-quality 320kbps MP3 format.
Key Features:
High-Speed Downloads:
Download videos from YouTube, Facebook, Instagram, Dailymotion, Vimeo, TikTok, Pornhub, Xvideos, SpankBang, xHamster, and more.
10X faster download speed for high-quality videos.
Quality Options:
Provides various video quality options, including 480p, 720p, 1080p, 2K, 4K, 8K, etc.
Audio Extraction:
Extract audio from videos and save it as high-quality 320kbps MP3 format.
Compatibility:
Supports macOS 10.10 or later.
What's New in Version 7.3.0:
Release notes were unavailable when this listing was updated.
Homepage:
For more information and to explore the features of iTubeGo HD Video Downloader, visit the iTubeGo Homepage.
0
Dash for Mac free Download 7.2.0
Dash: API Documentation Browser and Code Snippet Manager
Dash is a powerful application designed for developers, serving as both an API documentation browser and a code snippet manager. It facilitates the storage of code snippets and allows instant searching and browsing of documentation for numerous APIs. Dash is an indispensable tool for those who frequently work with various programming languages and frameworks.
Key Features:
Documentation Browser:
Supports offline documentation for various platforms and languages.
Extensive list of supported APIs, including iOS, OS X, watchOS, Swift, .NET Framework, Android, AngularJS, Django, Laravel, Python, Ruby on Rails, and many more.
In-page search, bookmarks, and search profiles for efficient navigation.
Integration plugins for popular text editors and development environments.
Fuzzy search for quick and accurate results.
Annotation and public annotation features.
Snippet Manager:
Collect and manage code snippets for reuse.
Sync snippets library using Dropbox.
Supports over 80 syntaxes for code highlighting.
Variable placeholders and abbreviations for enhanced code expansion.
Special snippet placeholders like @clipboard, @cursor, @date, and @time.
Other Features:
Retina-ready interface.
Multi-touch gestures support.
Menu item or dock application with quick access.
Suitable for use as a standalone Snippet Manager or Documentation Browser.
System Requirements:
macOS: 10.14 or later, 64-bit
Homepage:
For more information and to explore the features of Dash, visit the Dash Homepage.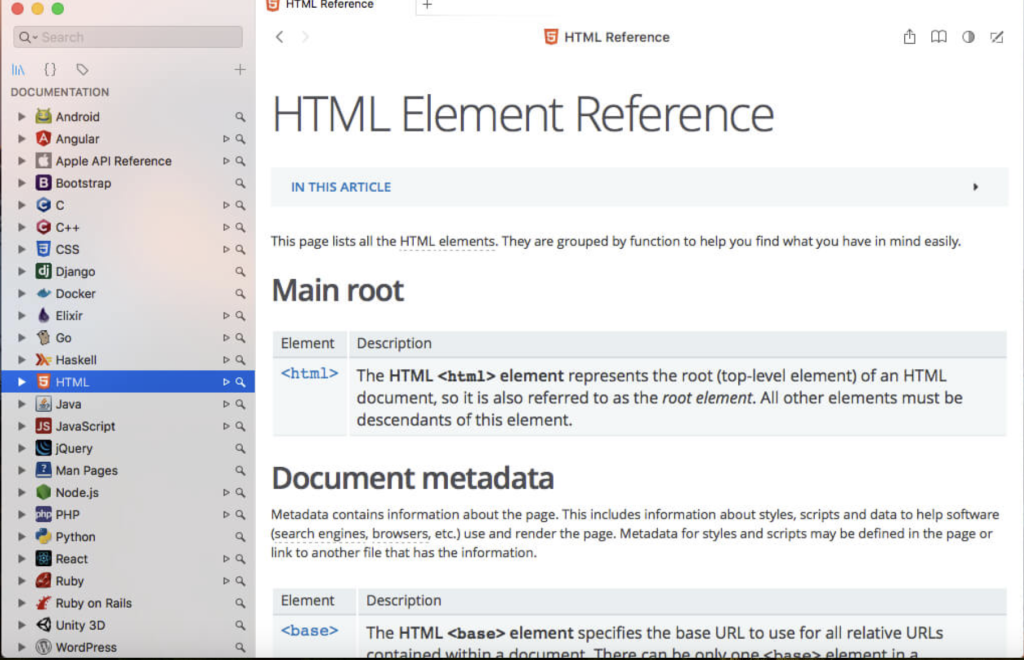 0
Name : TechSmith Camtasia
Size : 365 MB
TechSmith Camtasia For Mac free Download 2023.3.5
Camtasia: Professional Video Creation Software
Camtasia is a versatile video solution designed for creating professional-looking software demonstrations, product tutorials, online lessons, and recorded presentations. It is a user-friendly platform that doesn't require prior video editing experience. With pre-built video templates and a range of features, Camtasia allows users to effortlessly record, edit, and share videos.
Key Features:
Easy Learning Curve:
Quick to learn, making it suitable for beginners.
Pre-built video templates for easy video creation.
Record your screen, import PowerPoint presentations, or add existing video footage.
Confidence Boost:
Provides all the necessary tools for creating high-quality videos.
No need for a big budget or advanced video editing skills.
Engaging Content:
Enhances viewer engagement compared to text-based content.
Ideal for various purposes, including video tutorials, demos, YouTube videos, training materials, webinars, and more.
Usage Scenarios:
Video tutorials
How-to videos
Demo videos
Meeting recordings
YouTube videos
Training videos
Video lessons
Webinar recordings
Instructional videos
Explainer videos
Presentation recordings
And more!
System Requirements:
Homepage:
For more information and to explore the features of Camtasia, visit the TechSmith – Camtasia Homepage.
0
Name : Perfectly Clear WorkBench
Size : 197 MB
Perfectly Clear WorkBench for Mac free Download V- 4.6.0.2618
Perfectly Clear WorkBench 4: Image Correction Application
Perfectly Clear WorkBench is an application that utilizes Athentech's Perfectly Clear image correction libraries. It is designed to showcase the capabilities of the Perfectly Clear processing libraries and face detection library. Additionally, it allows for a quick export of processing settings for further use. This application serves as a powerful tool for making image corrections, and it demonstrates the potential of the Perfectly Clear processing libraries.
Key Features:
New Interface:
Features a beautiful new interface for an enhanced user experience.
New Image Correction Tools:
Includes a preprocessing section for Input Looks and "Image Ambulance" for manual exposure corrections.
"Face Aware" exposure for more accurate auto-exposure corrections in portraits and group photos.
Black Point tool for deepening blacks.
New Color Vibrancy tool to complement the previous "Vibrancy" control (now renamed to Color Restoration).
Sky and Foliage enhancements.
Improved Existing Tools:
Added strength sliders to Light Diffusion and Vibrancy for better control.
Enhanced 'color pickers' for Skin Tone and Blush adjustments.
Face Detection and Correction:
Manually identify faces that are not detected automatically.
One-click zoom to individual faces.
Modify facial regions for optimal corrections.
Histogram:
Includes a histogram for better visual analysis.
Preset Management:
Much-improved preset management for better customization.
Supported Image Formats:
Perfectly Clear requires RGB-formatted images in either 8 or 16-bit color depth.
Compatible with any image file that Photoshop or Lightroom can open and convert to this format.
Monochrome and CMYK images need to be converted to RGB before using Perfectly Clear.
RAW files must be opened through Adobe Camera RAW and loaded into Photoshop to be accessible.
System Requirements:
Homepage:
Visit the Perfectly Clear WorkBench Homepage for more details about this image correction application.
0
Name : RightFont
Size : 14 MB
RightFont for Mac Free Download V-8.4.0
RightFont 5: Innovative Font Management for macOS Designers
RightFont is a comprehensive font manager application designed for macOS, offering designers the ability to preview, install, sync, and manage their font files. This font manager boasts an innovative and professional interface, providing designers with the tools they need to effortlessly manage their local fonts.
Key Features:
Menubar Access:
Access font management directly from the menubar.
Starred Fonts:
Easily mark fonts as starred with a single click.
Font Lists:
Create and manage font lists for better organization.
Adobe Creative Cloud Integration:
Access fonts directly within Adobe Creative Cloud applications like Photoshop, Illustrator, InDesign, Flash, AfterEffect, and Sketch.
Instant Search:
Get instant search results as you type, making it easy to find the right font quickly.
Real-time Font Preview:
Change font preview and size in real-time.
Font Filtering:
Filter fonts by classifications (sans serif, serif, script, etc.), font width, and font weight. Google fonts and Adobe TypeKit fonts are also listed separately.
Integrations:
Effortlessly integrate RightFont with design software. Double-click to change the font used in your text layer.
Interface Redesign:
RightFont 5 features a redesigned interface, maintaining a balance between simplicity and features for an improved workflow.
Font Library:

Introduces Font Library for organizing fonts and font lists. Easily move libraries for font sharing or backup.

macOS Mojave Support:

Fully optimized for macOS Mojave, with support for dark theme, Touch Bar, color SVG fonts, and more.

Performance Improvements:

RightFont 5 offers better performance, being 2x faster than version 4.0 when importing and rendering fonts.
System Requirements:
Homepage:
Visit the RightFont Homepage for more information about this innovative font management application.
0
Name : FontXChange
Size : 12 MB
FontXChange for Mac Free download V- 6.0 fix
FontXChange 6.0: Font Conversion Made Easy
FontXChange is a versatile font conversion tool designed to easily convert fonts to OpenType (PS), PostScript Type 1, and TrueType formats for both Mac and Windows. It is capable of understanding various font formats and can efficiently convert fonts into multiple formats.
Key Features:
Batch Processing:
Convert entire font libraries in a batch processing mode.
Preferences:
Set font encodings according to your preferences.
Font Inspection Window:
Preview fonts with a font inspection window.
Support for Font Encodings:
Supports various font encodings, including Adobe Standard, Unicode, Mac Roman, Windows ANSI, and European.
Use Cases:
Convert PostScript Type 1 Fonts:
Convert PostScript Type 1 fonts (Mac or Windows format) into a single modern OpenType font file compatible with both Mac and Windows.
Recreate Missing Screen Fonts:
Use a PostScript font file to recreate missing screen fonts.
Convert TrueType Fonts:
Convert TrueType fonts to PostScript fonts, eliminating printing problems and incompatibilities associated with TrueType fonts.
Cross-Platform Font Sharing:
Convert Windows fonts to Mac and vice versa, enabling easy sharing of fonts across different computers and operating systems.
What's New in Version 6.0:
Release notes for this version were not provided.
System Requirements:
macOS: 10.13 or later (64-bit)
Homepage:
Visit the FontXChange Homepage for additional information and details about this font conversion tool.
0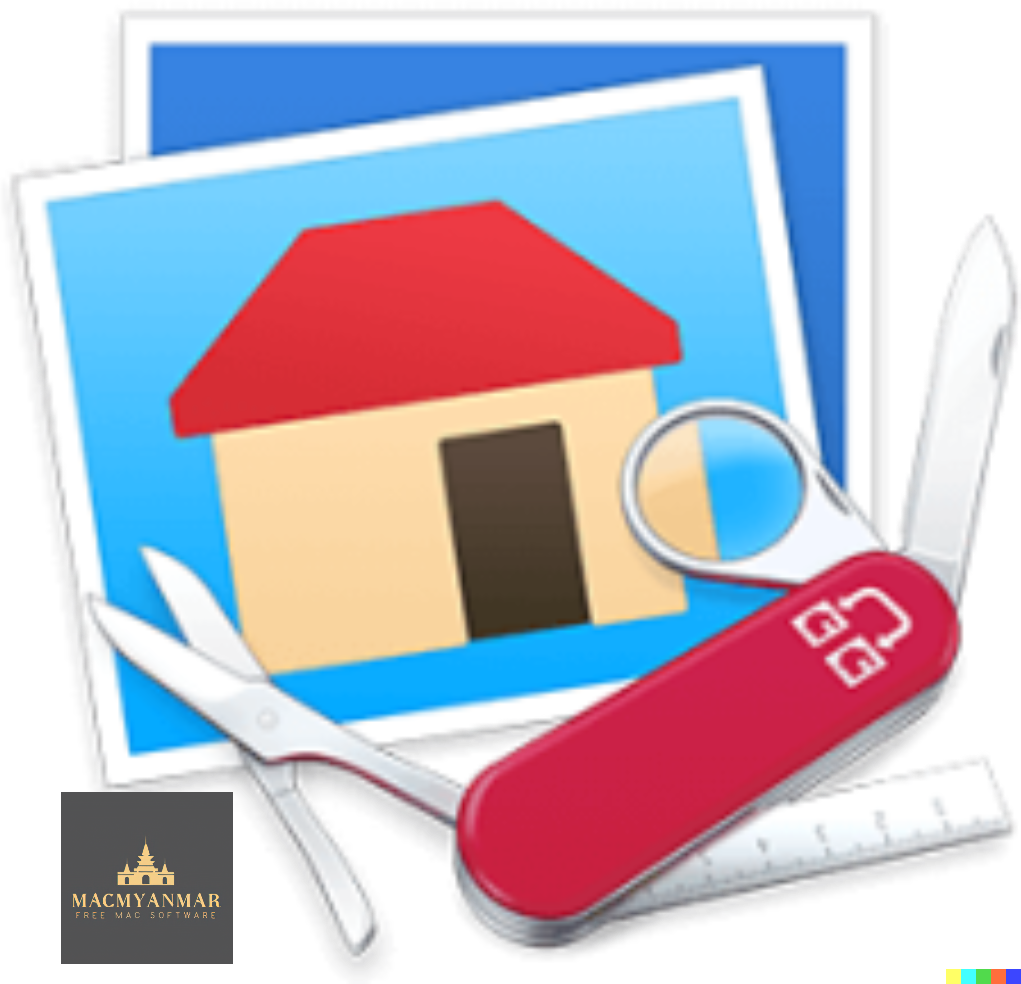 Name : GraphicConverter
Size : 261 MB
GraphicConverter for Mac free Download 12.0.8 (6330)
GraphicConverter 11: All-Purpose Image Editing Program
GraphicConverter is a comprehensive image-editing program designed for various graphic-based tasks. With the ability to import 200 different graphic formats, edit images, and export to 80 file formats, GraphicConverter provides a versatile solution for graphic manipulation.
Key Features:
Import and Export:
Import 200 different graphic-based formats.
Export to any of the 80 available file formats.
Editing Tools:
High-end editing tools for graphic manipulation.
Compatibility with Photoshop-compatible plug-ins.
Batch Conversion:
Batch-conversion capabilities for efficient processing.
Batch rename and individual editing of metadata (EXIF, IPTC, XMP).
Slide-Show Window:
Slide-show functionality for easy image viewing.
RAW Developer:
Improved RAW image editing capabilities.
Full-screen dialog with controls for Exposure, Contrast, and Color Corrections.
Unpack Archives:
Ability to unpack archive files (e.g., Zip, TAR, TGZ) to view or secure content.
Wide Equalization:
Correction for distortion in wide-angle shots.
Reduces distortion of faces and objects on the edges of wide-angle images.
Gradients:
Create color gradients with up to 10 colors using a new dialog.
Duo-Tone:
Color your images with two colors for a duo-tone effect.
Lighter shades are colored with color 1, and darker shades with color 2.
Apple Finder Tags:

Integration with Apple Finder Tags for easy organization.
Display and change Finder Tags directly in the browser.
System Requirements:
Homepage:
Visit the GraphicConverter Homepage for more information and to explore the features of this all-purpose image editing program.
0
Name : WonderPen
Size : 154 MB
WonderPen for Mac Free Download 2.4.1.7240
WonderPen: Powerful Writing App for Writers, Students, and Enthusiasts
WonderPen is a versatile and user-friendly writing app designed for writers, students, and writing enthusiasts. Whether you're working on a creative project, academic assignment, or personal writing, WonderPen provides a range of features to support your writing endeavors.
Key Features:
Tree View:
Organize your writing using a tree view structure.
Easily reorder documents with a simple drag-and-drop interface.
Markdown Support:
Enjoy an easy-to-use text editor that supports Markdown.
Use Markdown syntax for formatting your text efficiently.
Full-Screen Mode:
Enable full-screen mode to eliminate distractions and focus solely on your writing.
Export Options:
Export your documents in various formats, including Image, PDF, HTML, and more.
Flexible export options for sharing or publishing your work.
Auto-Save and Backup:
Documents are auto-saved while editing to prevent data loss.
Backup all documents as a single file for easy restoration.
Memo Feature:
Add memos to each document for additional notes or details.
Focus Mode:
Focus on a specific node of the document tree for concentrated writing.
Search Functionality:
Conduct searches across all documents to quickly locate specific content.
Automatic Backup:
Enjoy the convenience of automatic backups to safeguard your work.
Support:

Access support and provide feedback through the "Feedback" option in the "Help" menu.
System Requirements:
Homepage:
Visit the WonderPen Homepage for more information and to explore the app.
0
Name : JixiPix Artista Impresso Pro
Size : 121 MB
JixiPix Artista Impresso Pro for Mac free Download V- 1.8.24
Artista Impresso Pro: Transform Photos into Impressionist Masterpieces
Artista Impresso Pro is a powerful software designed to transform your photos into multi-textured, stroke-filled Impressionist masterpieces. Whether you are a professional or a lover of beauty, this application allows you to add creative control to your digital art.
Key Features:
Impressionism Styles:
Alla Prima: Great for portraits, filling the painting with an abundance of brushstrokes. It includes a library of artistic finishes for added light, color, and movement.
En Plein Air: Ideal for landscapes, providing eight artists' palettes created by famous impressionists. Customize the paint colors to make your own palette.
Tache: Applies broken brushstrokes throughout the image, creating a unique and textured effect.
Pro Layers:
Add impressionism styles per layer, allowing you to blend styles using brushes to paint on or off areas in the painting.
Use the powerful Ellipse Detail tool to add finely painted details to specific areas of your artwork.
Resize and apply to render small brushstrokes inside the Ellipse for added precision.
Canvas Layer:
A canvas layer is automatically added to each painting created, providing the traditional canvas texture integral to the painting.
The canvas layer can be turned on or off for viewing strokes created on previous layers, and it is locked to prevent accidental deletion.
Impressionism Brushes:
Three stroke styles (#1: straight strokes, #2: combination of straight and curved strokes, #3: abstract set) and the Tache effect with custom brushes for depth.
Smart brushes for removing or adding the impressionism effect, allowing detailed control over the artistic transformation.
Artistic Finishes:
Choose from 70 artistic finishes to enhance and customize the appearance of your masterpiece.
One-touch paint styles for quick and easy application of predefined artistic effects.
Additional Features:
Save presets to keep customized paint palettes and maintain all strokes and layers intact for future projects.
Mask with fill, invert, and clear options to support brushes and layers.
Compatibility as a plugin for Photoshop CS3+, Lightroom, and Elements for both Mac and Windows.
System Requirements:
Homepage:
Visit the Artista Impresso Pro Homepage for more information and details.
0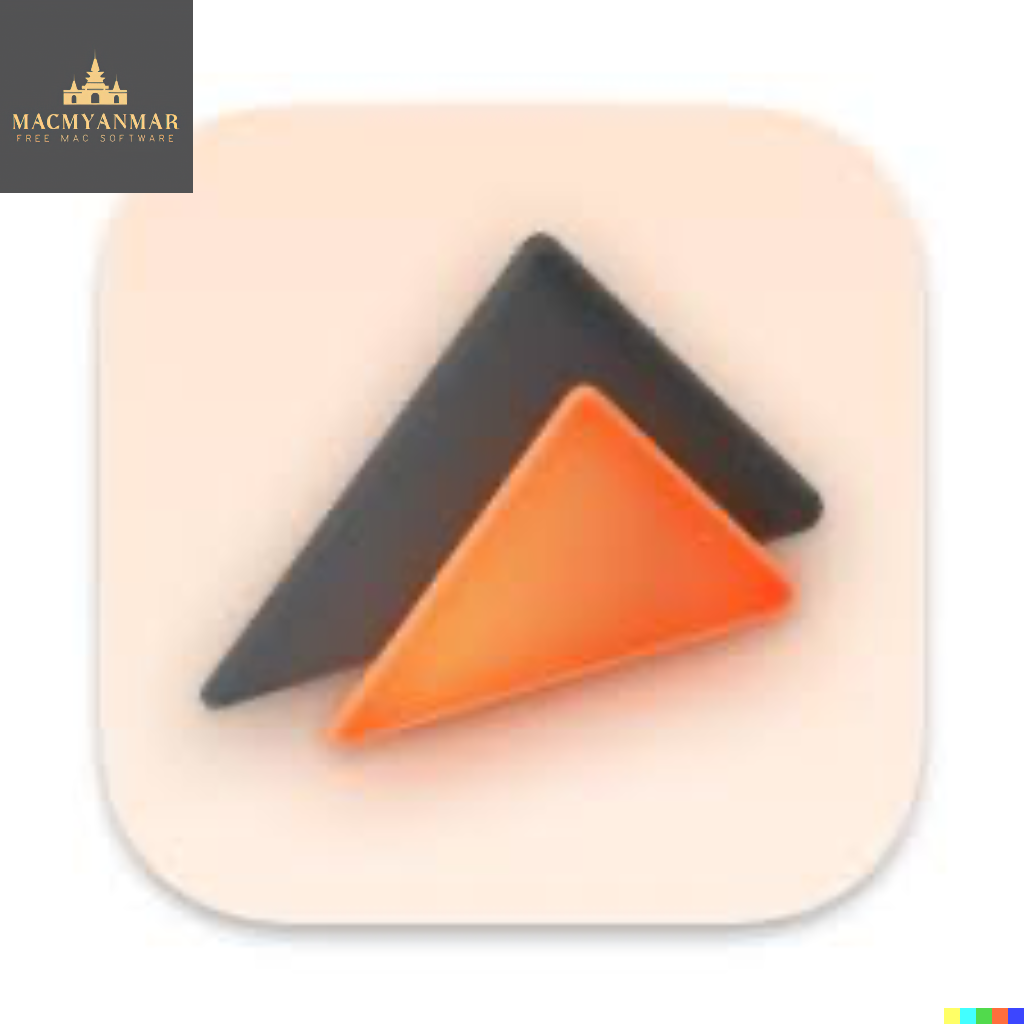 Name : Elmedia Player Pro
Size : 100 MB
Elmedia Player Pro for Mac Free Download V- 8.17
Elmedia Player: Feature-Rich Video and Audio Player for Mac
Elmedia Player is a versatile video and audio player designed to handle a wide range of file formats without the need for additional codecs or plugins. Whether you have MP4, AVI, MOV, SWF, DAT, MKV, MP3, FLAC, M4V, FLV, or other common formats, Elmedia Player promises seamless playback.
Key Features:
Comprehensive File Support:
Play virtually any video or audio format, including MP4, AVI, MOV, SWF, DAT, MKV, MP3, FLAC, M4V, FLV, and more.
Hardware-accelerated decoding for a smooth HD experience.
Audio and Video Playback Options:
Supports multiple audio tracks, including embedded and external audio files.
Full-screen mode with a choice of which monitor displays the full-screen video.
Native volume control.
Creation and management of playlists.
Pin the player on top of all active apps.
Streaming Features:
Stream local files to Chromecast, Apple TV, Smart TV, and other AirPlay and DLNA-certified devices.
Stream content from YouTube, Dailymotion, and Vimeo without ads via the Open Online Video option.
Support for streaming up to 4K videos to compatible devices.
Integrated Subtitles Search:
Integration with opensubtitles.org service for easy and quick subtitles search without leaving the player.
Flexible Video and Audio Settings:
Adjust video brightness, contrast, saturation, and more.
Sync subtitles to the video.
Audio equalizer with presets or custom settings.
Set an output device for audio, including transmitting AC-3/DTS through S/PDIF.
Online Video Access and Screenshots:
Access YouTube, Vimeo, and Dailymotion videos directly within the app.
Make screenshots of any moment in the movie or convert the entire video into a set of images.
System Requirements:
Mac App Store:
Explore Elmedia Player on the Mac App Store: Elmedia Player on Mac App Store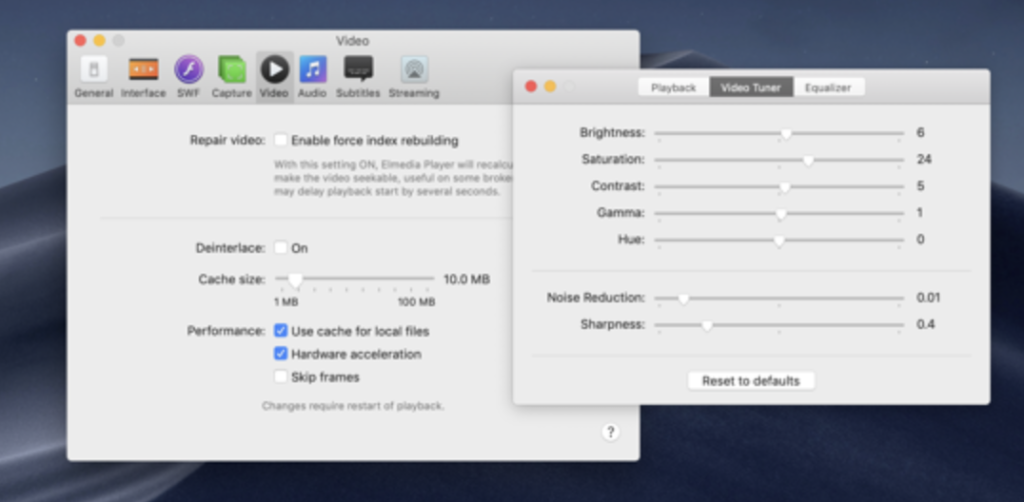 Jameskarke's RSS Feed