Office
0
Name : Adobe Acrobat Pro DC 23.001.20063
Size : 1.14 GB
Adobe Acrobat Pro DC 23.001.20063
Adobe Acrobat Pro DC is a comprehensive software tool designed for creating, editing, and managing PDF documents. It's widely used by businesses and individuals for various tasks related to PDF files. Here are some of the key features and capabilities of Adobe Acrobat Pro DC:
PDF Creation: You can easily create PDF files from various sources, including Word, Excel, PowerPoint, HTML, and more. It ensures that the created PDFs look consistent across different devices.
Editing PDFs: Adobe Acrobat Pro DC allows you to make edits to text and images directly within the PDF file. You can correct typos, change fonts, add paragraphs, and more.
Export and Conversion: You can convert PDF files to Microsoft Office formats like Word, Excel, and PowerPoint. This is particularly useful when you need to extract data or make further edits.
Forms Creation and Analysis: The software enables the creation of interactive PDF forms. These forms can be distributed online, and responses can be collected and analyzed in real time. You can also convert existing forms into fillable PDFs.
Merging and Combining Files: Adobe Acrobat Pro DC lets you merge multiple files into a single PDF, making it easier to organize and share content. You can also create PDF portfolios to present multiple files professionally.
Multimedia Integration: You can add multimedia elements to your PDFs, such as audio and video, making them more interactive and engaging.
Digital Signatures: The software supports digital signatures, allowing you to sign documents electronically. This is particularly useful for contracts and agreements.
Collaboration: Adobe Acrobat Pro DC provides tools for commenting, annotating, and reviewing PDF documents, facilitating collaboration among multiple users.
Document Security: You can apply various security features to your PDFs, such as password protection, encryption, and permissions settings, to control who can access and modify the content.
Mobile Compatibility: Adobe Acrobat Pro DC is designed to work seamlessly across different devices, allowing you to start a document on one device and continue working on it from another.
OCR (Optical Character Recognition): The software can perform OCR on scanned documents, making the text within images searchable and editable.
Cloud Integration: Acrobat Pro DC is integrated with Adobe Document Cloud, which enables you to access and work on your PDFs from anywhere, collaborate with others, and store files securely.
Adobe Acrobat Pro DC is a powerful tool for individuals and businesses dealing with PDF documents. It offers a wide range of features that enhance PDF creation, editing, collaboration, and security. If you're interested in learning more or trying out the software, you can visit Adobe's official website at https://www.adobe.com/products/acrobat.html. Please note that the information provided is based on the knowledge available up until September 2021, and there may have been updates or changes since then.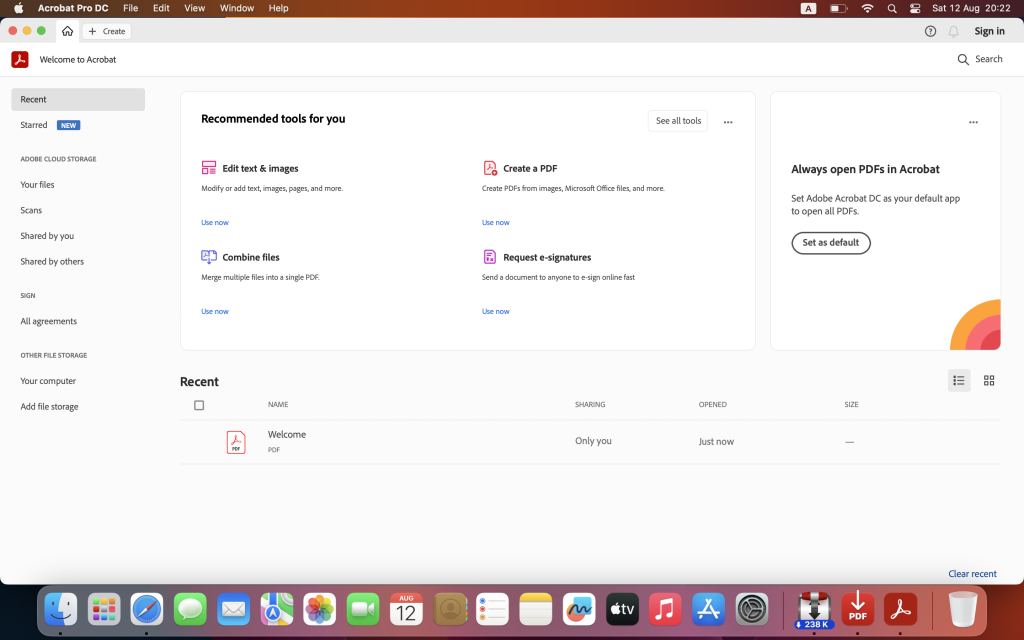 Certainly, here's a breakdown of the features and capabilities described in your provided text regarding Adobe Acrobat Pro DC:
Simplify Reviews and Approvals:
Automate Review and Approval Cycles: Replace manual paper and email-based reviews with automated processes in Acrobat Pro DC. Multiple reviewers can collaborate on the same PDF, improving efficiency and meeting deadlines.
Streamline Document Reviews: Enable shared reviews where reviewers can annotate PDFs using familiar tools. Track progress and consolidate comments for improved collaboration.
Export Comments to Word: Save all PDF comments back to the original Microsoft Word document, making it easier to incorporate feedback and update text.
Electronic Signatures: E-sign documents directly on the PDF, eliminating the need to print, fax, or mail documents for approval.
Signature Approval: Send PDFs to others for signature approval, track progress online using the Adobe EchoSign service, and accelerate approval processes.
Integration with SharePoint: Seamlessly access, open, and save PDFs stored on your organization's SharePoint server from within Acrobat.
File Version Comparison: Let Acrobat compare two versions of a file and provide a detailed report of the differences, aiding in tracking changes.
Protect PDF Files:
Apply PDF Passwords and Permissions: Easily add copy and edit protection to PDFs, even from within Microsoft Office applications on Windows.
Remove and Redact Information: Identify and permanently remove confidential information from PDFs, including metadata, for enhanced data protection.
Automate Document Security Tasks: Utilize guided Actions to consistently apply document security measures before publishing, ensuring a standardized security approach.
Compatibility:
Adobe Acrobat Pro DC is compatible with macOS 10.13 or later and supports both Apple Silicon and Intel Core processors.
Homepage:
For more information and to explore Adobe Acrobat Pro DC, you can visit their official homepage at http://acrobat.adobe.com.
Adobe Acrobat Pro DC is a versatile tool that offers a range of features for simplifying document reviews, enhancing security, and facilitating collaboration among teams. It's widely used in various industries for document management and workflow optimization. If you're interested in learning more or trying out the software, you can visit Adobe's official website. Keep in mind that the provided information is based on content available up until September 2021, and there might have been updates or changes since then.