Download Cardhop 2.2.11 for Mac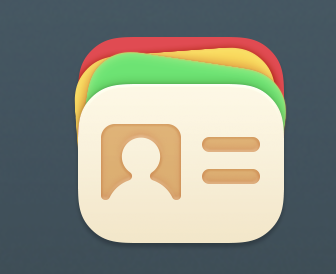 Name : Cardhop
Size : 33 MB
Download Carhop 2.2.11 for Mac
Cardhop is a macOS app designed to simplify and streamline the management and interaction with your contacts. It offers a range of features and actions to make handling your contacts more intuitive and efficient. Here are some key features of Cardhop:
Intuitive Parsing Engine:
Cardhop's parsing engine allows you to search, add, edit, and interact with your contacts using simple sentences. It understands natural language input, making contact management more intuitive.
Menu Bar App:
Cardhop is a menu bar app, designed exclusively for macOS, providing easy access to your contacts without the need to open a separate application.
Instant Compatibility:
The app instantly works with your existing macOS contacts, requiring no additional configuration.
Contact Groups:
Quickly toggle contact groups with a single click, making it easy to organize and access specific sets of contacts.
Notes:
Cardhop offers a convenient way to add notes to your contacts, helping you strengthen your relationships by keeping important information handy.
Recents:
Easily interact with your recent contacts, saving you time when you need to reach out to people you've recently communicated with.
Birthdays:
Cardhop provides visibility into upcoming birthdays, allowing you to send wishes to your contacts on their special day.
Communication Actions:
Interact with your contacts quickly using actions such as Call, Copy, Directions, Email, FaceTime, FaceTime Audio, Large Type, Message, Skype, Telegram, Twitter, URL, and VoIP.
Customizable Quick Actions:
You can customize quick actions on a per-contact basis, enabling single-click actions tailored to specific contacts.
Dark and Light Themes:
Cardhop offers both dark and light themes, allowing you to choose your preferred interface style.
Compatibility:
Please note that specific release notes for version 2.2.11 were not available at the time of this listing.
Cardhop is designed to make managing and interacting with your contacts more efficient and user-friendly. Its intuitive parsing engine and menu bar accessibility provide a streamlined contact management experience for macOS users.
To learn more about Cardhop and download it, you can visit the official website: Cardhop Homepage